Credit Rating
Credit Rating
Creditinfo Rating evaluates the current activities and results of the company as a whole, primarily from the creditor's point of view, and it is formed as a weighted average of the company's economic and financial situation and the rating of payment habits. Creditinfo Rating is assigned to all Estonian companies and is internationally accepted.
Creditinfo's rating model predicts the company's credit position during the 12 months following the assessment, achieving a very high degree of accuracy in the assessments.
It has been developed on the basis of international standards and adapted to the Estonian market. Our model has been proving its reliability for over 20 years!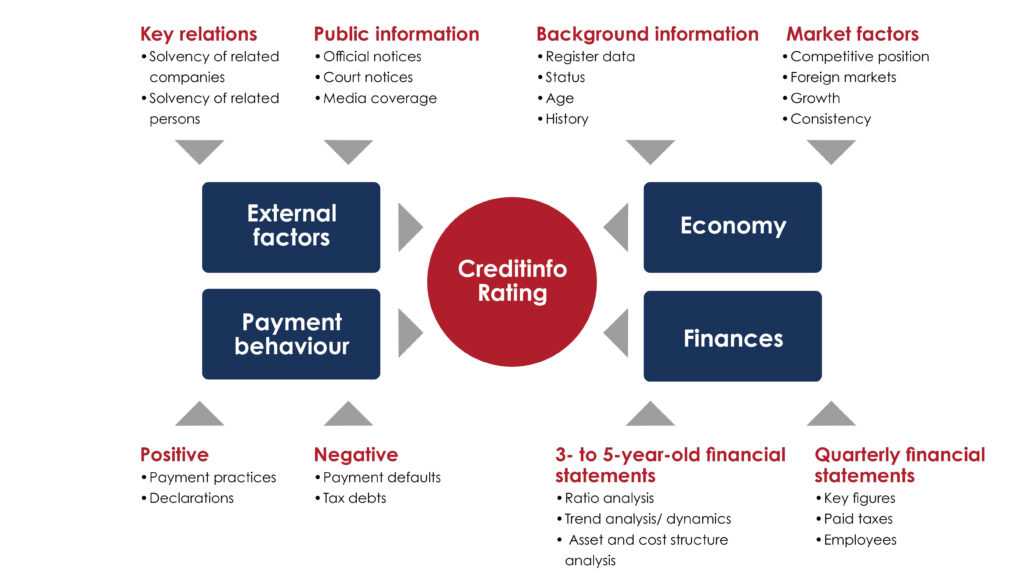 CREDIT INFORMATION RATINGS ARE EXPRESSED IN LETTER COMBINATIONS WITH THE FOLLOWING ANSWERS AND EXPLANATIONS:
NB! Only group A credit rated companies can certify themselves.
When to use a Creditinfo Rating?
It is expedient to use the rating for all credit and investment decisions, as well as for concluding cooperation or employment agreements.
The advantage of Creditinfo Rating is ratings issued on the basis of standardized and uniform criteria. This makes it easier to compare different companies and make decisions without touching emotions.
The rating is included in the Credit Rating Report, the Credit Rating Report and the Credit Rating Service. The rating is also the basis for determining the title of Strongest in Estonia company.
How is the rating calculated?
Creditinfo Rating is calculated on the basis of the understatement of
economic situation,
financial situation
the rating of payment habits
… as a weighted average. The values ​​obtained from the calculation are converted to a rating as a combination of letters. Each discount has its own share in the final rating.
The scores are in turn calculated as a weighted average of the different indicators and ratios, with a different weight and a different grade for each indicator and ratio.
The indicators have been selected as a result of statistical extracts and testing so that they are available for most companies and at the same time reflect the situation and risks of the company as diverse as possible.
Creditinfo Rating is given to companies based on criteria developed in a seven-point system. In addition to the criteria that characterize the strength of each indicator, the final rating takes into account dozens of other special conditions that, depending on their scope and impact, may shake the rating up or down.
Credit Rating Report
Credit Report gives a detailed overview of company's financial situation.